Hi. I've been a practising Hypnotherapist for over 20 years, and in 2000 launched the world's first Cognitive Hypnotherapy training course, an approach I developed as a result of my clinical experience, the training that I'd taken in a number of disciplines and my fascination with the subjects of personal growth and therapy.
If you're interested you can read about my awards and things later on. Some of you might find that they help you with your decision, while others will be looking for something else. For me, the question always is, 'what will help you to decide', because clearly I want to convince you that I'm the best choice you can make.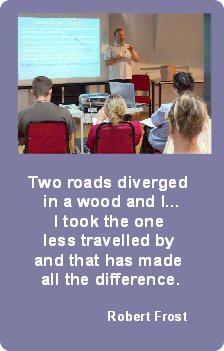 I can tell you I've trained over nine hundred Cognitive Hypnotherapists, many of whom do great work around the country, and have reviewed my training positively. I've personally worked with thousands of clients, and many would tell you how they've been helped, but I'm aware that ultimately people buy people, so your choice is going to be one personal to you. You might find what you need to make that decision from reading my blog or some of my magazine articles. Alternatively you can hear me on a podcast, or watch me on a sample of an online course I developed. Or you can always email or ring me. The reason why I want you to take the time to decide, and for me to give you as many ways of arriving at your decision as possible, is because the relationship between us will be key to our success. If you get a good feeling from learning about me, come and see me; if you don't, find someone else rather than see me because of the opinion of others. Therapy is about enabling you to trust your choices. This is your first one.
There is a no risk in booking an appointment because, at the end of the first hour, if you don't think I can help you, or if I don't think I can, there will be absolutely no charge. If we agree to work together, you pay for that session and the ones thereafter. Your investment is £240 per session (usually 90 minutes for a first session, and 60 minutes thereafter) including VAT.
I was a police officer for 18 years, and as a result, have a particular interest in Post-Traumatic Stress Disorder, or PTSD. I believe that sufferers can be helped in a relatively short period of time, and never has there been a greater need in modern times. I've been involved in fitness and sport my whole life, so I have a passion, through sports coaching, for helping people to reach the peak of their abilities in whatever sport they pursue, and relationship coaching is also something that's turned into a speciality. That said, helping people make any change they want in their life has been a fascination for me since I started over 20 years ago. I've come from a job I knew wasn't right for me to something that I love, and along the way have changed profoundly as a person. It's that experience that feeds my passion to help others do the same.
I've successfully helped people with most problems that therapists face, and I'm not going to bore you with a long list. If you think your mind is a factor in your problem give me a call. That said, I don't generally see people for smoking, because any one of my graduates can do an excellent job, and often for less than I charge.
Here's that ego stuff I mentioned earlier:
I was the editor of the Hypnotherapy Journal of the National Council for Hypnotherapy for 9 years, and served on their committee as both their Director of Ethics and Supervision for a further five.
I'm a Fellow of the National Council for Hypnotherapy and in 2003 received their Researcher of the Year Award for my book Wordweaving: The Science of Suggestion. I'm also the author of The Question is the Answer, Cognitive Hypnotherapy: What's that and How can I use it? Lovebirds: How to live with who you love, and How to Click: Finding love in five simple steps.
I was a Keynote speaker at the NCH's National conference in 2006, and in 2007 received their highest honour, the Hartland Memorial Award, for my contribution to Hypnotherapy.
I've provided corporate training to many organisations, including Mercedes Benz,The Metropolitan Police, The Scottish Police College, BT, SAB, Carillion Plc, Friends Reunited and VW.
I'm the Training Director of The Quest Institute; we run a number of different courses, but our core activity is our Cognitive Hypnotherapy training.
I wrote regularly for UltraFit magazine, and contribute to many more.
The quote at the top of the page is one of my favourites. It's been true in the differences I've made to my life, and the differences I've helped my clients create in theirs. Make your thoughts make your life the way you want it.